Home

/

Optimum Nutrition Gold Standard BCAA, 28 Servings
Details
Gold Standard

BCAA Train + Recover
Train + Recover
Gold Standard BCAA is built on a foundation of Branched Chain Amino Acids prized by athletes for their ability to spare muscle during endurance training and help kick start the muscle building process after weight training. This banned substance tested formula also includes electrolytes, antioxidant vitamin C and other performance supporting ingredients in a lightly flavored mix that encourages drinking throughout your training.
BCAAs for Muscle Support
Wellmune® for Immunity Support
Rhodiola for Endurance Support
220 MG of Performance Supporting Electrolytes
15% of the Daily Value for Vitamin C
Banned Substance Tested
Just 15 Calories Per Serving
THE TRUE STRENGTH OF BCAAS
Before training, you want to boost energy and focus. Then there's your post-workout protein shake to kick-start recovery. In the gym, during your workout, BCAAs can help spare muscle tissue from excessive breakdown and electrolytes can help support your performance during intense training.* Patented Wellmune can also help support your immune system so you can hit your next workout.* This endurance supporting powder was formulated to be highly drinkable with light tropical flavors to encourage steady sipping throughout extended training sessions.* This is the new Gold Standard for intra-workout support.*
5g BCAAs in 2:1:1 Ratio
Performance Support from Electrolytes*
Endurance Supporting Rhodiola*
Wellmune® to Support Immunity*
Banned Substance Tested
OPTIMUM NUTRITION TRUE STRENGTH
True Strength is a journey. It never rests, it never quits. It's about overcoming obstacles, accomplishing goals, and recognizing achievements. And then it resets to achieve again. As your trusted sports nutrition partner in goal achievement, ON demonstrates that same passion while crafting our products. From the raw materials we source to our state-of-the-art manufacturing processes, no compromises are made. You set the bar higher after every workout, we set the bar higher to redefine the industry standards and ensure you realize optimum results.
GOLD STANDARD BCAA AT A GLANCE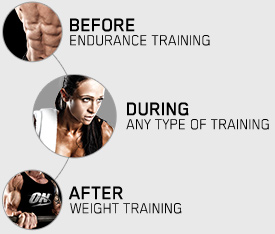 TIP: MIX A COUPLE SCOOPS IN A LARGE WATER JUG TO SIP THROUGHOUT THE DAY.
SUPPLEMENT FACTS
Serving Size 1 Scoop (10 g)

Servings Per Container

28

Amount Per Serving

% Daily Value

Calories

15

Total Carbohydrate

4 g

1%*

Vitamin C (as Ascorbic Acid)

9 mg

15%

Magnesium (as Magnesium Oxide)

60 mg

15%

Sodium (as Sodium Chloride)

100 mg

4%

Potassium (as Potassium Chloride)

100 mg

3%

BCAA Blend (L-Leucine, L-Isoleucine, L-Valine)

5 g

†

Bakers Yeast Beta Glucan (Wellmune®)

250 mg

†

Rhodiola Extract (root)

200 mg

†

* Percent Daily Values are based on a 2,000 calorie diet.

† Daily Value not established.

Other Ingredients:

Natural And Artificial Flavor

, Citric Acid

, Malic Acid

, Tartaric Acid

, Lecithin

, Calcium Silicate

, Silicon Dioxide

, Sucralose

, Red 40

, Blue 2.

CONTAINS: SOY.
Customer Reviews
cheaper to buy from supplement shop Review by

Ming Loon

it is cheaper to buy from supplement shop because of the ss points which i can apply as rebate for my next purchase. delivery was fast and product works fine for me. i like the watermelon flavor more. (Posted on 21/06/2017)
You may also be interested in the following product(s)
Special Price S$23.95

Regular Price: S$48.00
Check items to add to the cart or select all

Sale Products
Special Price S$55.00

Regular Price: S$68.00

Special Price S$73.00

Regular Price: S$85.00

Special Price S$23.90

Regular Price: S$48.00

Special Price S$15.00

Regular Price: S$18.00

Special Price S$23.00

Regular Price: S$35.00

Special Price S$32.00

Regular Price: S$38.00

Special Price S$49.00

Regular Price: S$70.00

Special Price S$50.00

Regular Price: S$65.00

Special Price S$13.50

Regular Price: S$20.00

Special Price S$15.00

Regular Price: S$19.00

Special Price S$27.00

Regular Price: S$40.00

Special Price S$22.00

Regular Price: S$35.00

Special Price S$39.95

Regular Price: S$49.95

Special Price S$20.00

Regular Price: S$32.00

Special Price S$35.00

Regular Price: S$57.00

Special Price S$29.00

Regular Price: S$45.00

Special Price S$49.00

Regular Price: S$85.00

Special Price S$50.00

Regular Price: S$63.00

Special Price S$32.00

Regular Price: S$40.00

Special Price S$22.00

Regular Price: S$30.00

Special Price S$62.00

Regular Price: S$75.00

Special Price S$55.00

Regular Price: S$70.00

Special Price S$50.00

Regular Price: S$70.00

Special Price S$9.00

Regular Price: S$23.00

Special Price S$9.00

Regular Price: S$13.00

Special Price S$50.00

Regular Price: S$60.00

Special Price S$12.90

Regular Price: S$18.00

Special Price S$49.90

Regular Price: S$122.95

Special Price S$5.00

Regular Price: S$62.00

Special Price S$59.00

Regular Price: S$90.00

Special Price S$79.00

Regular Price: S$95.00

Special Price S$62.00

Regular Price: S$80.00

Special Price S$69.90

Regular Price: S$85.00

Special Price S$69.90

Regular Price: S$85.00

Special Price S$69.00

Regular Price: S$90.00

Special Price S$69.90

Regular Price: S$149.90

Special Price S$69.90

Regular Price: S$149.90

Special Price S$41.90

Regular Price: S$48.00

Special Price S$23.95

Regular Price: S$48.00

Special Price S$29.90

Regular Price: S$45.00

Special Price S$38.00

Regular Price: S$50.00

Special Price S$8.00

Regular Price: S$10.00