Details
LIPO-6 by Nutrex is a powerful and extremely popular fat-burner that utilizes maximum strength capsules for superior absorption and rapid results.
This highly advanced method of delivering fast-acting fat-burning compounds makes LIPO-6 a great choice when it comes to weight-loss products.
LIPO-6 Liquid Capsules will help you to achieve rapid fat-burning results so you can have the body you always wanted.
It's no wonder that LIPO-6 was awarded the title of Fat-Loss Product of the Year.
ABOUT NUTREX RESEARCH INC
MAKERS OF LIPO6 TOP SELLING WEIGHT LOSS FORMULA WORLDWIDE
NUTREX RESEARCH was founded in 2002. Operating out of a 80,000 sqft state-of-the-art facility our focus and direction has always been to bring cutting-edge products to the industry. NUTREX were the first supplement company to release liquid capsules. Nutrex products are truly in a class by themselves and we will continue to provide a way to make them even better.
Nutrex worked closely with a few chemists to research ways to properly test our liquid capsule products to ensure that we achieved accurate results that matched our label values for all of our products. Nutrex Research has had, for many years, a long-term partnership in one of the only FDA/DEA approved laboratories to test both our liquid capsules and powders.
After a successful 12 years in our industry, the launch of liquid capsules has been one of the highlights, setting Nutrex apart from the rest. We have been the leader of the liquid capsule category for many years now.
Our customers can rest assured knowing that Nutrex offers some of the most heavily researched products this industry has to offer and everything is tested rigorously to match label claims.





Nutrex Arnold Classic EXPO in 2014. With over 35,000 in attendance, this event is one of the largest health and fitness expos in South America.








WHICH LIPO6 IS SUITABLE FOR ME?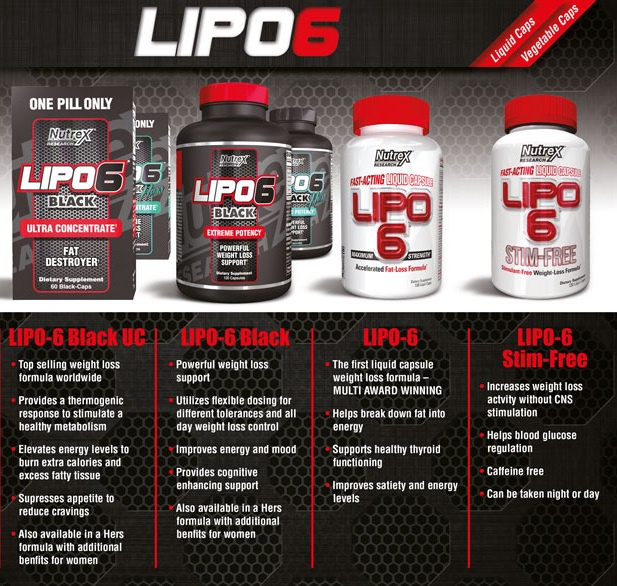 One Pill Only
Starts it all!
EXTREME CAUTION ADVISED: This is by far the strongest LIPO-6 we have ever released. It's so strong that you can never take more than one pill. This is an ultra concentrated super potent one pill only fat loss aid that is designed to assist your body in rapid weight loss.†
To help ensure that your diet and weight loss goals become a success, LIPO-6 Black Ultra Concentrate contains clinically tested Advantra Z® which increases the metabolic rate (Thermogenesis). LIPO-6 Black Ultra Concentrate further ignites a remarkable feeling of energy and alertness that will help keep you going for hours. To ensure optimum effects, all ingredients of this powerful formula are embedded in fast-absorbing liquid capsules.†
Just one pill is all it takes. Be warned: LIPO-6 Black Ultra Concentrate is an intense product: A fat loss aid unlike anything else.†
This product is an intentional version that does not contain prohibitive substances disallowed by the local authorities.

IFBB Pro
Men's Physique
Anton Antipov

SUPPLEMENT FACT
Customer Reviews
Good product Review by

Viv

Taken this product a few times - Gives a very good boost in energy and as long as you consume enough water and keep yourself hydrated no problem.

Gives a very good boost of energy that will blast your past your workout. (Posted on 05/12/2019)

2nd time buying Review by

Sheryl

Lipo6 works well for me. Especially this formula which is ultra concentrated. I just take 1 pill a day and this is by far more cost effective. I have already lose 5kg on Lipo6 and i hope to lose another last 1kg. (Posted on 26/12/2017)

Good fat loss product. Very effective for me. Review by

De Wei

I have been taking Lipo6 Black Ultra Concentrate for a long time. It has help me to lose 8kg and i hope to able to lose the the last 1kg to my reach my ideal weight. My belly size has shrunk from 42 inches to 36 inches. This fat burner is very strong. You should not take more than 2 pills a day. (Posted on 15/12/2017)
You may also be interested in the following product(s)