Home

/

Nutrex Lipo-6 CARNITINE, 120 Liquid Capsules
Details
LIPO-6 by Nutrex is a powerful and extremely popular fat-burner that utilizes maximum strength capsules for superior absorption and rapid results.
This highly advanced method of delivering fast-acting fat-burning compounds makes LIPO-6 a great choice when it comes to weight-loss products.
LIPO-6 Liquid Capsules will help you to achieve rapid fat-burning results so you can have the body you always wanted.
It's no wonder that LIPO-6 was awarded the title of Fat-Loss Product of the Year in 2005, 2006, 2007 and 2008.
ABOUT NUTREX RESEARCH INC
MAKERS OF LIPO6 TOP SELLING WEIGHT LOSS FORMULA WORLDWIDE
NUTREX RESEARCH was founded in 2002. Operating out of a 80,000 sqft state-of-the-art facility our focus and direction has always been to bring cutting-edge products to the industry. NUTREX were the first supplement company to release liquid capsules. Nutrex products are truly in a class by themselves and we will continue to provide a way to make them even better.
Nutrex worked closely with a few chemists to research ways to properly test our liquid capsule products to ensure that we achieved accurate results that matched our label values for all of our products. Nutrex Research has had, for many years, a long-term partnership in one of the only FDA/DEA approved laboratories to test both our liquid capsules and powders.
After a successful 12 years in our industry, the launch of liquid capsules has been one of the highlights, setting Nutrex apart from the rest. We have been the leader of the liquid capsule category for many years now.
Our customers can rest assured knowing that Nutrex offers some of the most heavily researched products this industry has to offer and everything is tested rigorously to match label claims.





Nutrex Arnold Classic EXPO in 2014. With over 35,000 in attendance, this event is one of the largest health and fitness expos in South America.








WHICH LIPO6 IS SUITABLE FOR ME?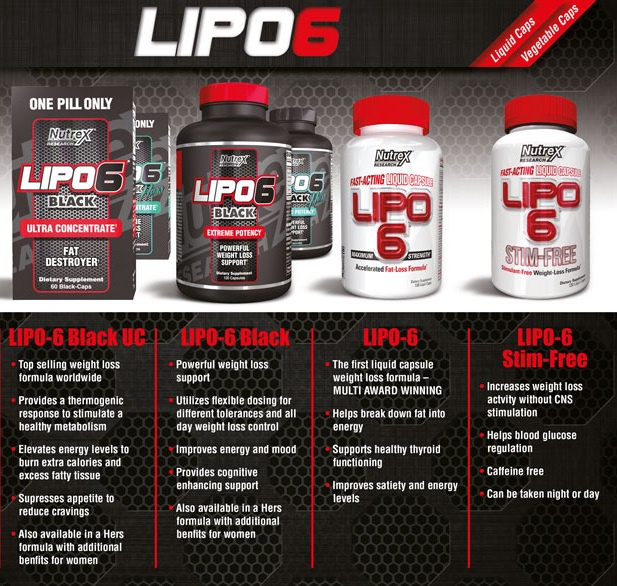 LIPO-6 SUPPLEMENT EXPIRY DATE INFORMATION

LIPO-6 BLACK ULTRA CONCENTRATE 60 Caps (04/2020)

LIPO-6 BLACK HERS 120 Caps (08/2020)

LIPO-6 ACCELERATED 120 Caps (12/2019)

LIPO-6 STIM-FREE 120 Caps (08/2020)

Lipo-6 AQUA LOSS Water Loss 80 Caps (07/2020)

Lipo-6 CLA 90 Softgels (06/2020)

Lipo-6 CLA 180 Softgels (07/2020)

Lipo-6 CARNITINE 60 Caps (07/2020)

Lipo-6 CARNITINE 120 Caps (03/2020)



WEIGHT LOSS SUPPORT
L-Carnitine plays an important metabolic role in fat burning and energy production. Scientific research has demonstrated that L-Carnitine assists your body in converting fat to energy. L-Carnitine helps to tap into your body's fat supply by providing support to have fatty acids transported to your muscles where they can be burned as energy. This process can aid in weight loss and improve athletic performance such as increased endurance.
L-Carnitine is not a stimulant and can easily be combined with other diet products. To optimize results LIPO-6 CARNITINE provides L-Carnitine in fast-absorbing liquid capsules.
SUPPLEMENT FACTS
120 Liquid Capsules

Serving Size: 2 Liqui-Caps

Servings Per Container: 60


Amount Per Serving

% Daily Value

L-Carnitine Hcl

1,310 mg

*

(Yielding 1000mg of Pure L-Carnitine)

* Daily Value not established.

Other Ingredients:

Glycerin

, Vegetable Cellulose**

, Purified Water.

** This product utilizes only natural vegetable capsules that are free of animal products.
Directions For Lipo-6 Carnitine: RECOMMENDED USE ON TRAINING DAYS: Take one serving 30 minutes before exercising with a glass of water or a beverage of your choice.

RECOMMENDED USE ON NON-TRAINING DAYS: Take one serving with a glass of water or a beverage of your choice at any time of the day between meals.
Warnings: As individuals vary so will results from using this product. KEEP OUT OF REACH OF CHILDREN.
You may also be interested in the following product(s)
Special Price S$69.90

Regular Price: S$85.00

Special Price S$79.00

Regular Price: S$95.00

Special Price S$59.00

Regular Price: S$82.00

Special Price S$69.90

Regular Price: S$85.00

Special Price S$49.90

Regular Price: S$122.95
Check items to add to the cart or select all

Sale Products
Special Price S$13.90

Regular Price: S$45.00

Special Price S$20.90

Regular Price: S$85.00

Special Price S$12.90

Regular Price: S$28.00

Special Price S$12.90

Regular Price: S$28.00

Special Price S$12.90

Regular Price: S$28.00

Special Price S$49.00

Regular Price: S$59.00

Special Price S$15.00

Regular Price: S$25.00

Special Price S$4.90

Regular Price: S$28.00

Special Price S$13.80

Regular Price: S$35.00

Special Price S$73.00

Regular Price: S$85.00

Special Price S$39.95

Regular Price: S$49.95

Special Price S$59.00

Regular Price: S$82.00

Special Price S$49.00

Regular Price: S$70.00

Special Price S$55.00

Regular Price: S$68.00

Special Price S$23.90

Regular Price: S$48.00

Special Price S$32.00

Regular Price: S$38.00

Special Price S$22.00

Regular Price: S$30.00

Special Price S$15.00

Regular Price: S$18.00

Special Price S$50.00

Regular Price: S$65.00

Special Price S$13.50

Regular Price: S$20.00

Special Price S$15.00

Regular Price: S$19.00

Special Price S$27.00

Regular Price: S$40.00

Special Price S$22.00

Regular Price: S$35.00

Special Price S$12.00

Regular Price: S$20.00

Special Price S$35.00

Regular Price: S$57.00

Special Price S$50.00

Regular Price: S$63.00

Special Price S$40.50

Regular Price: S$63.00

Special Price S$32.00

Regular Price: S$40.00

Special Price S$62.00

Regular Price: S$75.00

Special Price S$55.00

Regular Price: S$70.00

Special Price S$50.00

Regular Price: S$70.00

Special Price S$9.00

Regular Price: S$13.00

Special Price S$50.00

Regular Price: S$60.00

Special Price S$12.90

Regular Price: S$18.00

Special Price S$49.90

Regular Price: S$122.95

Special Price S$59.00

Regular Price: S$90.00

Special Price S$79.00

Regular Price: S$95.00

Special Price S$62.00

Regular Price: S$80.00

Special Price S$69.90

Regular Price: S$85.00

Special Price S$69.90

Regular Price: S$85.00

Special Price S$48.30

Regular Price: S$90.00

Special Price S$29.90

Regular Price: S$45.00

Special Price S$38.00

Regular Price: S$50.00